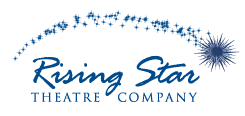 our mission
The mission of the Rising Star Theatre Company is to provide quality productions, meaningful production experiences, and varied theatre study opportunities for Dubuque and the surrounding tri-state communities.
Get Involved at Rising Star Theatre Company
Rising Star Theatre Company is a non-profit arts organization that relies on the support of volunteers. There are opportunities to match many interests. For those wishing to work on a production, consider auditioning or helping on the technical side: costuming, sound, lighting, scenery construction and painting, backstage run crew, props, and more. For those with limited time and the desire to support, ushering is a great way to participate and see a show. Finally, for those who like to be behind the scenes, consider working on or with RSTC's Board of Directors on one of our committees including: Marketing, Fundraising, Programming, and more! The generosity of your volunteer time is greatly appreciated and vital to RSTC's continued success.
If you are interested in volunteering, please e-mail info@risingstartheatrecompany.com or call 563.231.0110.