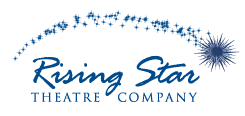 our mission
The mission of the Rising Star Theatre Company is to provide quality productions, meaningful production experiences, and varied theatre study opportunities for Dubuque and the surrounding tri-state communities.
Founding and current Producing Artistic Director Nicholas Halder and Megan Schumacher formed Rising Star Theatre Company in the summer of 2009. To date, over 1,000 people have participated both on and offstage in one of our productions, over 15,000 tickets have been purchased to those productions and strong ties have been made with local organizations through education and outreach efforts.
The primary purpose of the company is to provide a vehicle for education in production and development of theatre, as well as to encourage community participation and appreciation of all aspects of theatre. The skills that the participants learn from engaging in arts activities will be invaluable to them in their lives.
Rising Star Theatre Company provides programming opportunities throughout the year. These opportunities include:
High School Production (This production is open to those students just completing 8th grade to graduating high school)
Family Production (This production is open to all ages based on the casting requirements of the show.)
Youth Production (This production is open to ages eight through eighteen. Every child who auditions will be cast in this production, which is unique in Dubuque.)
Summer Camps for students of all ages.
Cabaret Series and various other events through the year.