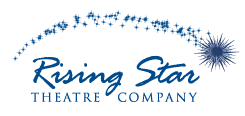 education
The primary purpose of Rising Star Theatre Company is to provide a vehicle for education in production and development of theatre, as well as to encourage community participation and appreciation of all aspects of theatre. The skills that the participants learn from engaging in arts activities will be invaluable to them in their lives.

contact
Mail:
1310 White Street
Dubuque, Iowa 52001
Phone:
563.231.0110
Email:
info@risingstartheatrecompany.com
Head over to the events tab for upcoming opporunites!