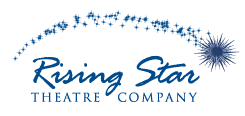 Rehearsal Schedules
The Little Mermaid

Casting Information

Cast List Gadgets & Gizmos Cast List Whozits & Whatzits Cast List
General Production Information:
Full Company rehearsals will begin July 5.
Dress/Technical Rehearsals August 8th-10th

The rehearsal times are as follows:
Gadgets & Gizmos Cast: Monday through Friday, 10am-Noon
Whozits & Whatzits Cast: Sunday through Thursday, 6-8pm
Rehearsal Location:
All rehearsals will be held at Terence Donaghoe Hall on the campus of Clarke University, 1550 Clarke Drive, until otherwise noted on the rehearsal schedule. Feel free to park in the lot next to the building and enter through the front doors.
There is a $40 participation fee, which includes a commemorative Little Mermaid t-shirt. Payment can be sent with students to their first rehearsal. Checks can be made payable to Rising Star Theatre Company. Scholarships are available to cover the participation fee and can be requested by contacting megan@risingstartheatrecompany.com.