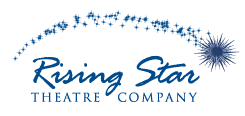 Auditions

Fillable Forms:
-Youth Audition Form
-Adult Audition Form
-Volunteer Form

Printable Forms:
-Youth Audition Form
-Adult Audition Form
-Volunteer Form
-Youth Photo Release and
Behavioral Contract
-Adult Photo Release Form
Auditions for Sister Act and Li'l Abner:
Saturday, May 12: 9am-Noon and 1-4pm
Sunday, May 13: 4-8pm
Monday, May 14: 4-8pm
Auditions will take place in the Orpheum Room, second floor in the Five Flags Center.
(Please enter on Locust Street).
Those interested in auditioning do not need to sign-up for a specific time, nor do they have to come to all of the times.
If you are unable to make it to auditons you can either submit a taped audition or contact info@risingstartheatrecompany.com
Callbacks, if needed, will take place in the evenings of May 15th and 16th in the Orpheum Room.
Please prepare a short musical selection and bring your sheet music to the audition,
as an accompanist will be provided.
General Production Information:
Sister Act is open to all ages based on the casting requirements of the show. Rehearsals start May 21, and run 6 to 9 pm Monday - Friday, with possible Saturday or Sunday rehearsals.

Li'l Abner is open to ages eight through eighteen. Every child who auditions will be cast in this production, which is unique in Dubuque. Rehearsals start tentatively July 2, and run Monday through Friday in the Bijou Room in the Five Flags Center, with possible Saturday rehearsals. The morning cast meets 10:30 to noon and the afternoon cast 1 to 2:30 pm.

Detailed Rehearsal schedules will be made available upon the completion of casting.



School of Rock: