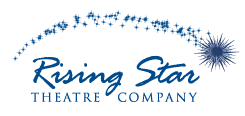 Casting Information
General Audition Information


Who May Audition?
Anyone may audition for a Rising Star Theatre Company production! All our performers are volunteers. Some come to RSTC with a lot of experience and others come as first-timers. No experience is required to participate.
When are Auditions?
Auditions are generally scheduled five to seven weeks prior to a show's opening. You only need to audition at one of times listed. Sometimes additional nights are used for "call-backs".
How are Auditions Conducted?
Actors should prepare 32 bars of a musical theatre song in the style of the show that best shows their vocal range. Please bring sheet music, an accompanist will be provided. Actors may be asked to read from preselected sides from the script. Those auditioning may also perform a dance audition of a short dance learned during the audition, depending on the needs of the show.
Rehearsals
Those auditioning should be prepared to list all conflict or potential conflicts and availability for the rehearsal period as specified in the Audition notice. Availability for dress/technical rehearsals and all performances is mandatory. Rehearsals may possibly run during the daytime or evenings Monday through Friday and various times on the weekend depending on the production. NOTE: Rehearsal dates and times are in part determined by the availability of the cast! There will be a rehearsal schedule; unless scheduled, not everyone will be expected at every rehearsal.