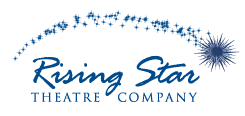 Rising Star Theatre Company is grateful to our individual, corporate, and business community partners for their ongoing generosity and support of the arts. Nearly half of our annual budget is raised through contributed income, and we rely on these partners to meet our goals.
Thanks to our supportive partners, Rising Star serves nearly 300 young people and community members each year with our outstanding theatre productions, educational opportunities, and entertainment.
We have a variety of ways to give: donating online, individual and corporate giving, in-kind giving, volunteering, and great opportunities for corporate sponsorship.
Check out the listing to the left under "ways to give" for complete details.