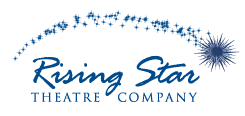 Every year Rising Star Theatre Company produces a variety of extraordinary events, including three summer musicals and various other projects. As a non-profit organization, our programs are heavily supported by community involvement and we intend to make sure you have a great time while getting involved.

Mail:
1310 White Street
Dubuque, Iowa 52001
Phone: 563.231.0110
Email:
info@risingstartheatrecompany.com



A WEEK WITH FROG AND TOAD
GRADES 1-2 starting fall 2017


Students will join Frog, Toad, and all of their animal friends for a week of crafts, games, and storytelling. Using their bodies, voices, and imaginations, students will retell stories from the classic Arnold Lobel books and make new stories of their own through books, song and dance, and theatrical crafts. At the end of the week parents are invited to join us for a special sharing day to see the students' stories, songs, and crafts!

JUNE 12-16, 9 AM-12 PM
Five Flags Center
Cost: $100




MAGIC TREEHOUSE ADVENTURES




GRADES 3-4 starting fall 2017


Journey with Jack and Annie to the land of the Dinosaurs, Shakespeare's stage, outer space and everywhere in between in this week-long adventure! Students will learn about the basic acting tools: body, voice, and imagination, as well as higher level skills like vocal projection and story structure. Using the Magic Treehouse books as inspiration, students will create their own stories, sing songs, and make theatrical crafts. At the end of the week parents are invited to join us for a special sharing day to see the students work!

JUNE 12-16, 1 PM-4 PM
Five Flags Center
Cost: $100




THE LITTLE MERMAID

DISCOVERY CAMP




GRADES 5-7 starting fall 2017

Join us as we dive into the world of Disney's The Little Mermaid to prepare for our upcoming production! Students will learn about play theatrical games to discover the basic acting tools of body, voice, and imagination and then begin to build on those skills by learning about vocal projection, stage directions and how to write down blocking, as well as good rehearsal etiquette. Students will also have the chance to explore the source material by (reading/watching) The Little Mermaid, and listen to music from the show. This camp will give students a chance to acclimate to the material and the art of theatre before rehearsals start in July. On the last day parents are invited to view their students work in a special showcase!

Students do not need to be a cast member of the Youth Production, The Little Mermaid, to participate in this camp.

JUNE 19-23, 9 AM-4 PM
Five Flags Center
Cost: $200




MUSICAL THEATRE AUDITIONING INTENSIVE




GRADES 8-12 starting fall 2017

Want to audition for musicals but don't know where to start? Already have a few shows under your belt but want to hone your skills? This is the class for you! Throughout the week students will rotate through singing and acting workshops as well as special lessons in dancing, improv, and successful warm up techniques. These workshops will help you learn how to pick the right songs for auditions, cut the songs, and act through songs, monologues, and cold reading scenes. On the final day students will get to use skills learned in the week to perform a mock audition and callback for special guests.

JUNE 26-30, 9 AM-4 PM
Five Flags Center
Cost: $200

RSTC is happy to bring alum Maddie Ripperger back to lead each camp. She has been a part of the Rising Star Family since 2010 and has participated both on and off-stage in over ten productions. Maddie is a senior theatre major at Drake University and has many years of experience working with students of every age at the Des Moines Playhouse and Omaha's Rose Theater. We are very excited to have Maddie share her many talents with camp participants!

Registration is currently open! Send your completed form and payment to: Rising Star Theatre Company, 1310 White Street, Dubuque, Iowa 52001


Fillable Form Downloadable PDF





June 15-17, 2017 at 7:30 pm
June 18, 2017 at 2pm
Five Flags Theater
Tickets: Adults-$15 and Youth-$12


Book by Roger O. Hirson
Music by Stephen Schwartz

Originally produced on the Broadway stage by Stuart Ostrow
Directed on the Broadway stage by Bob Fosse
Theo Ending Originally Conceived In 1998 By Mitch Sebastian

With an infectiously unforgettable score from the four-time Grammy winner, three-time Oscar winner and musical theatre giant, Stephen Schwartz (Wicked, Godspell, Children of Eden), Pippin continues to captivate and appeal to the young at heart throughout the world.

Heir to the Frankish throne, the young prince Pippin is in search of the secret to true happiness and fulfillment. He seeks it in the glories of the battlefield, the temptations of the flesh and the intrigues of political power. In the end, though, Pippin finds that happiness lies not in extraordinary endeavors, but rather in the unextraordinary moments that happen every day.

Equally poignant as a black box production or as a splashy, spectacle-driven extravaganza, Pippin's message is universal and will connect with audiences across the age spectrum.
July 14 - 15 & 20 - 22, 2017 at 7:30pm
July 16 and 22, 2017 at 2pm
Five Flags Theater
Tickets: Adults-$15 and Youth-$12

By L. Frank Baum
With Music and Lyrics by Harold Arlen and E. Y. Harburg
Background Music by Herbert Stothart
Dance and Vocal Arrangements by Peter Howard
Orchestration by Larry Wilcox
Adapted by John Kane for the Royal Shakespeare Company
Based upon the Classic Motion Picture owned by Turner Entertainment Co. and distributed in all media by Warner Bros.

There truly is no place like home as the greatest family musical of all time, the wonderful Wizard Of Oz, twists its way near you! The entire family will be captivated as they travel down the Yellow Brick Road and beyond with Dorothy, Toto and their friends the Cowardly Lion, Tin Man and Scarecrow in this lavish production, featuring breathtaking special effects, dazzling choreography and classic songs.

A spectacular celebration of the iconic 1939 MGM film, The Wizard Of Oz will blow you away from the moment the tornado touches down and transports you to a dazzling land of Oz, complete with munchkins and flying monkeys. Don't miss the chance to travel over the rainbow and experience this national treasure on stage.
August 10 & 11, 2016 at 1pm
August 11 & 12, 2016 at 7pm
August 12 & 13, 2016 at 2pm
Five Flags Theater
Tickets: $10

Music by Alan Menken
Lyrics by Howard Ashman and Glenn Slater
Book by Doug Wright

Based on the Hans Christian Andersen story and the Disney film that was produced by Howard Ashman & John Musker and written & directed by John Musker & Ron Clements.

Originally Produced by Disney Theatrical Productions.

Based on one of Hans Christian Andersen's most beloved stories and the classic animated film, Disney's The Little Mermaid is a hauntingly beautiful love story for the ages. With music by eight-time Academy Award winner, Alan Menken, lyrics by Howard Ashman and Glenn Slater and a compelling book by Doug Wright, this fishy fable will capture your heart with its irresistible songs, including "Under the Sea," "Kiss the Girl" and "Part of Your World."

Ariel, King Triton's youngest daughter, wishes to pursue the human Prince Eric in the world above, bargaining with the evil sea witch, Ursula, to trade her tail for legs. But the bargain is not what it seems, and Ariel needs the help of her colorful friends, Flounder the fish, Scuttle the seagull and Sebastian the crab to restore order under the sea.