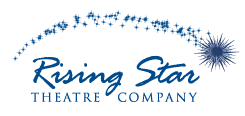 Every year Rising Star Theatre Company produces a variety of extraordinary events, including three summer musicals and various other projects. As a non-profit organization, our programs are heavily supported by community involvement and we intend to make sure you have a great time while getting involved.

Mail:
1310 White Street
Dubuque, Iowa 52001
Phone: 563.231.0110
Email:
info@risingstartheatrecompany.com
June 14-16 at 7:30 pm
Tickets: Adults-$16 and Youth-$13*


Book by Julian Fellowes
Lyrics by Glenn Slater
New Music by Andrew Lloyd Webber

Based on the Paramount movie by Mike White



Rock got no reason, rock got no rhyme…You better get me to school on time! School of Rock, based on the hit movie, follows Dewey Finn, a failed, wannabe rock star who decides to earn an extra bit of cash by posing as a supply teacher at a prestigious prep school. There he turns a class of straight–A pupils into a guitar-shredding, bass-slapping, mind-blowing rock band. But can he get them to the Battle of the Bands without their parents and the school's headmistress finding out? School of Rock, with its sensational live kids' rock band, is a loving testimony to the transforming power of music.





July 13 - 14 & 19 - 21 at 7:30pm
July 15 at 2pm
Tickets: Adults-$16 and Youth-$13*

Music by Alan Menken
Lyrics by Glenn Slater
Book by Cheri Steinkellner and Bill Steinkellner

Additional Book Material by Douglas Carter Beane

Based on the Touchstone Pictures Motion Picture, Sister Act, written by Joseph Howard.

Sister Act is the feel-good musical comedy smash based on the hit 1992 film that has audiences jumping to their feet! When disco diva, Deloris Van Cartier, witnesses a murder, she is put in protective custody in the one place the cops are sure she won't be a found: a convent! Disguised as a nun, she finds herself at odds with both the rigid lifestyle and uptight Mother Superior. Using her unique disco moves and singing talent to inspire the choir, Deloris breathes new life into the church and community but, in doing so, blows her cover. Soon, the gang is giving chase, only to find them up against Deloris and the power of her newly found sisterhood. A sparkling tribute to the universal power of friendship, Sister Act is reason to REJOICE!





August 9 & 10 at 1pm
August 10 & 11 at 7pm
August 11 & 12 at 2pm
Tickets: $12*

Book by Norman Panama and Melvin Frank
Based on Characters Created by Al Capp
Original Direction and Choreography by Michael Kidd
Lyrics by Johnny Mercer
Music by Gene de Paul

Al Capp's world-famous comic strip characters populate this upbeat musical extravaganza in a satisfying mixture of hillbilly nonsense and sharp, critical humor. "It's a Typical Day" as the citizens of Dogpatch, U.S.A. go about their daily activities. Daisy Mae intends to catch Li'l Abner on Sadie Hawkins Day, so he'll be forced to marry her. But before that can happen, the small town learns it's been declared the most useless place in the country and will be used as an atomic test bomb site, unless they can prove their worth. Abner's mother, Mammy Yokum, could have the answer -- but even her Yokumberry tonic might not be enough to save Dogpatch. A fun-filled, foot-stompin' musical taken directly from the comics, Li'l Abner is laced with gentle satire, rib-tickling humor, and a host of brash, catchy tunes.

*All ticket prices include a $2 facility fee that goes directly to the Five Flags Center.