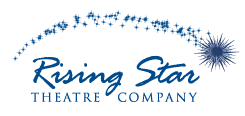 Get Involved
Be one of the hundreds of volunteers that help make Rising Star Theatre Company what it is every year!
Volunteer Opportunities

e-news
ARE YOU ON OUR E-NEWS LIST?
Sign up for our FREE newsletter today! Learn more about upcoming events, get insight into the artistic process, and be the first to hear about ticket sales, auditions, and much more.
Join Our Mailing List
Mission
The mission of the Rising Star Theatre Company is to provide quality productions, meaningful production experiences, and varied theatre study opportunities for Dubuque and the surrounding tri-state communities.
Vision
Through the production of high-quality shows, and the offering of robust educational opportunities, Rising Star Theatre Company will continue to contribute to the rich arts and cultural history of the tris-state area, and be a valuable member of the arts in Iowa. Rising Star Theatre Company strives to provide directors, designers, musicians and actors with a safe environment to enhance their creative abilities and explore their talents, through the creation of live theatre.
Values
Excellence: RSTC strives to bring a high standard of quality to all productions, events, and patron services.

Community: We champion a community of diverse peoples, practices, and ideas that fosters inclusion and honesty, and reflects our community. We respect varied backgrounds and work and life experiences.

Collaboration: We believe that great theatre is best cultivated in the meaningful convergence of ideas and perspectives amongst director, actor, designer and audience. We strive to cultivate and protect an environment of collaboration within our organization, as well as seek opportunities to work cooperatively with others.
Inspire: We strive to educate, challenge, stimulate, and entertain people in the tri-states area.
Professionalism: We pursue a creative and compassionate environment committed to integrity, dignity that demands dedication, pride, and respect.
Respect: All great work is nurtured in an atmosphere of civility and mutual respect. Harmonious and collaborative rehearsal rooms, production shops, and office spaces are our priority. We value physical safety and a supportive and fun work environment.
Economical: RSTC works towards keeping productions and events affordable for all.

Financial Responsibility: We honor our audience and Board by being responsible with our finances, and we create beautiful theatre with elegance and economy.