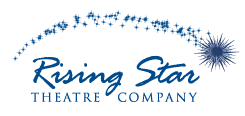 Auditions
LOOKING TO BE A STAR?
At Rising Star Theatre Company everyone is a star! Find out more information on auditions, casting, requirements, and rehearsal schedules.
Find Out More Information

e-news
ARE YOU ON OUR E-NEWS LIST?
Sign up for our FREE newsletter today! Learn more about upcoming events, get insight into the artistic process, and be the first to hear about ticket sales, auditions, and much more.
Join Our Mailing List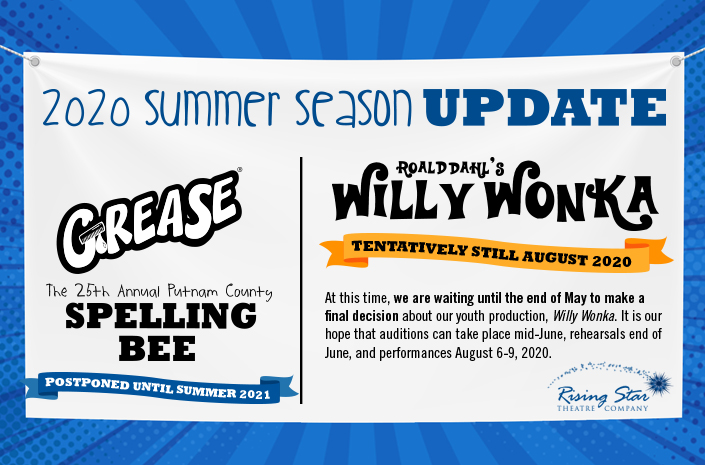 Everyone at Rising Star Theatre Company hopes that you and your family are safe and healthy during these uncertain times.
The RSTC Board of Directors has made the difficult decision to postpone our productions of Grease and The 25th Annual Putnam County Spelling Bee as part of our 2020 summer. The health and safety of our patrons, participants, and company as a whole was the Board's top priority. We are currently finalizing the details in producing these musicals in June and July 2021, respectively.
The Board and staff members are currently exploring alternative opportunities in lieu of the two postponed productions. We will announce those opportunities once they have been finalized, as well as when the group gathering recommendations suggest it would be safe for them to take place.
At this time, the Board is waiting until the end of May to make a final decision about our youth production, Willy Wonka. We will continue to monitor and evaluate the changing nature of this situation as we come to a final decision. It is our hope that auditions can take place in mid-June, rehearsals beginning as they usually do at the end of June and performances August 6-9, 2020.
We appreciate your understanding and support for RSTC during this difficult time. Updates will be made through our website and social media platforms. Please feel free to reach out to info@risingstartheatrecompany.com with any questions that you may have. Until we see you next, keep reaching for the stars!
Thank you,
Rising Star Theatre Company Board and Staff